Kayak Explorer Cruise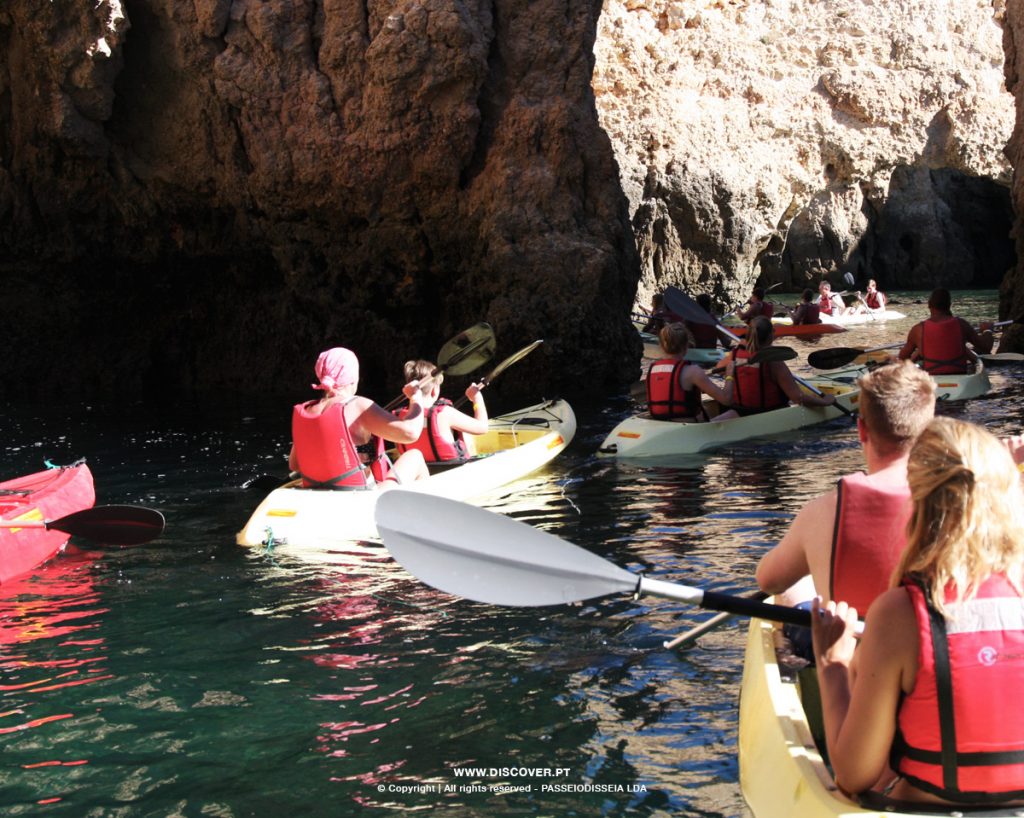 Kesto: 2 Tunnit (noin)
Paikka: Lagos, Faro
Tuotekoodi: KE
Book Now
Hop on board and join us in this exciting exploration of the caves and beaches of Ponta da Piedade. Along the way there witness the beautiful golden beaches that took millions of years to be made. Just relax and enjoy the view. Listen to our guide as he explains you how to use your gear and about safety and navigation rules. Once at Ponta da Piedade, board your kayak and follow the guide as he takes you through the beautiful caves and small beaches for which this area is famous.

After the tour, if it's possible, we will give you a chance to go for a swim and enjoy yourself with our snorkeling gear. After that is time to go back, so jump back on board, relax and have a nice cold drink on the way back to the city.
Junte-se a nós nesta aventura fantástica às grutas e praias da Ponta da Piedade. De caminho deslumbre-se com a beleza natural das praias douradas e formações rochosas que datam de à milhões de anos atrás. Ouça o nosso guia a explicar-lhe como usar o seu equipamento e também quais as regras de navegação e de segurança. Uma vez chegados à Ponta da Piedade, entre no seu kayak e siga o nosso guia enquanto este o leva a conhecer as famosas grutas e praias magníficas que dão fama ao barlavento algarvio.

Depois da visita guiada, se for possível, poderá nadar um pouco e usar o nosso equipamento de mergulho livre. A seguir é tempo de voltarmos. Entre a bordo, relaxe e tome uma bebida refrescante no caminho de volta para a cidade.


What to Bring / O que trazer
A jumper or a wind jacket, sunblock, swimsuit, hat or cap, Towel and good mood.
Uma camisola ou um casaco, creme protetor, chapéu, toalha e claro, boa disposição.
Infants, Children and Adults / Bebes, Crianças e Adultos

NOT SUITABLE FOR INFANTS / NÃO ADEQUADO A BEBÉS
Children from 4 to 12 / Crianças 4 a 12

Adults 13+ / Adultos 13+